AC Contactor
Our AC contactor is an electrically controlled switch mainly used to control circuit or switch the power. It is widely used in electric motors, lighting devices, heating equipment, capacitor banks, and other electrical load control devices.
We have several modes of contactors for your consideration, that is, electromagnetic contactors, vacuum contactors, to name a few.

CJX1 (3TB, 3TD) Series AC Contactor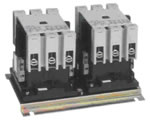 Our CJX1 (3TB, 3TD) series AC contactor can be used in electrical system with AC 50/60Hz and rated operational voltage up to 660V. With a suitable thermal overload relay, our AC contactor also can be an electromagnetic starter.
Features of CJX1 (3TB, 3TD) Series AC Contactor
1. Our AC contactor is a straight motion mechanism. It can be equipped with two breaking contacts. The auxiliary contacts are arranged with 2NO, 2NC at most.
2. Our AC contactor is made of high non-fusibility and against corrosion silver alloy. So there is no arc-isolated panel in the le≤22A contactors. There only has moulded arc-chute with arc-isolated panel in the Ie≥32A contactors.
3. Our AC contactor uses flexible locking connection to connect contact support and core.
Applications of CJX1 (3TB, 3TD) Series AC Contactor
Our contactor is suitable for circuits with rated voltage up to 660V, AC 50Hz or 60Hz, and rated current 630A. Both 3TD and 3TB series products quite meet the technical specifications of IEC947-2 and VDE0660.
Technical Specifications of CJX1 (3TB, 3TD) Series AC Contactor
Type
Rated thermal current (A)
Rated operating current 380V(A)
Rated operating current 660V(A)
The power of controlled motor (KW)
Type of auxiliary contact
380V
660V
3TB40
22
9
7.2
4
5.5
1NO 1NC 1NO+1NC 2NO+2NC
3TB41
22
12
9.5
5.5
7.5
3TB42
35
16
13.5
7.5
11
3TB43
35
22
13.5
11
11
3TB44
55
32
18
15
15
2NC+2NO
Huayi Electric Co., Ltd. is an ISO9001: 2000 and ISO14001: 2004 certified AC contactor manufacturer located in China. Over 20 years of manufacturing experience in the industry has enable us to provide our customers with superior quality power transmission and distribution equipment, circuit breakers, load break switches, disconnect switches, and other products, at competitive prices.
Currently, due to stable performance and reasonable prices, our KEMA, GOST, CCC, TUV, WTGS, and CB certified products are successfully exported to more than 30 countries, including Germany, the United Stated, Russia, Iran, South Africa, Argentina, and more.
Please do contact Huayi Electric Co., Ltd. via email or phone available on this website, should you require further information on our products or for orders.
Other Products
Wind Energy EquipmentA wind turbine generator generates electricity from raw wind power. This happens when the rotational movement generated by the blades enters the generator through the shaft. The rotation helps to create an electromagnetic field that produces electrical power at a maximum of hundreds of volts...